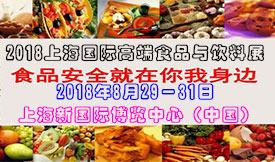 SFEC 2018the 15th Shanghai International high-end food and drinks exhibitions
     上海国际高端食品与饮料展览会(简称"SFEC"),自2006年创办以来,迄今已成功的举办了十四届,一直都得到了上海市相关部门的批准与支持,然而拥有行业权威及影响力而备受瞩目。
Shanghai International High-end Food and Beverage Exhibition ("SFEC"),Since its inception in 2006, so far has been held fourteen successfully,It has been approved and supported by relevant departments in Shanghai all the time. However, it has attracted the attention of industry authority and influence.
每年,SFEC China 展会引领亚洲乃至全球买家来到上海,共同搭建中国食品行业最有影响力的商贸平台。专业贸易商涵盖了从食品进出口商、经销商、批发与零售商、超市与综合卖场,到酒店、餐饮业等食品与饮料采购的各个领域。高质量的观众为参展商带来了众多的商机以及合作交流的机遇。
Every year, SFEC China show leads Asian buyers and even global buyers to Shanghai,in order to jointly build China's food industry's most influential business platform.Professional traders from food importers and exporters, distributors, wholesalers and retailers, supermarkets and comprehensive stores, hotels, restaurants and other food and beverage procurement in all fields.High-quality visitors bring many business opportunities and opportunities for cooperation and exchange for exhibitors.
  SFEC China 2017上海食博会迎来了食品饮料及其他多个行业领域专业观众,其中三分之一的专业观众来自中国大陆以外。2017年展出面积再上新台阶(同比增长10%),食博会不仅是国内,而且也是亚洲规模较大的国际食品饮料展。来自海内外多个国家和地区的数百家展商(同比增长9.6%)亮相2017食博会。
SFEC China 2017 Shanghai Food Expo ushered in a professional audience of food and beverage and many other industries, of which one-third of the professional visitors came from outside China.In 2017, the exhibition area has reached a new level (an increase of 10% over the same period of last year). The food fair is not only domestic but also a large-scale international food and beverage show in Asia.There are hundreds of exhibitors from many countries and regions at home and abroad (up 9.6% YoY) debuted at the 2017 Food Expo.
现场活动会议:
On-site activities meeting:
★企业专场:15000/小时   ★品牌专场:15000/小时   ★技术交流会:10000/ 小时
★招商发布会:10000/小时 ★产品推介会:10000/小时
★ Business Meeting: 15000 / h ★ Brand Meeting: 15000 / h ★ Technical Seminar: 10000 / h★ Investment Conference: 10000 / h ★ Product Promotion: 10000 / h
(提供200人以内的会场及相关基础设施;提供电源,投影仪,音响,麦克等;提供会场引导以及说明牌的广告位;免费提供会前的馆内广播通告和观众组织;)
(It provides venues and related infrastructure within 200 people; provides power supply, projector, stereo, microphone and so on; advertising space for guidance and signage of the venue; free pre-conference in-building broadcast announcements and audience organization);
会刊广告:
Journal Advertising price:
Cover(2,3)

Cross color

Color pages

Black and white pages

25000元

25000RMB

20000元

20000RMB

10000元

10000RMB

8000元

8000RMB

5000元

5000RMB

3000元

3000RMB

会刊广告:尺寸为140*210,进口铜版纸,彩页精印,图文并茂。主要派送行业协会、参观商及相关部门。

Journal Advertising:Size 140 * 210, imported coated paper, color pages fine print, illustrated.The main distribution to industry associations, visitors and related departments.
如何参展:
How to exhibit: